QSP Summit, the biggest event on the portuguese marketing scene, is On and GoWeb is one of the proud supporters.
On March 10th, Exponor – Congress Center will receive the 2016 edition of the QSP Summit, this year with the theme "The New Global Age" and a luxurious list of international keynote speakers.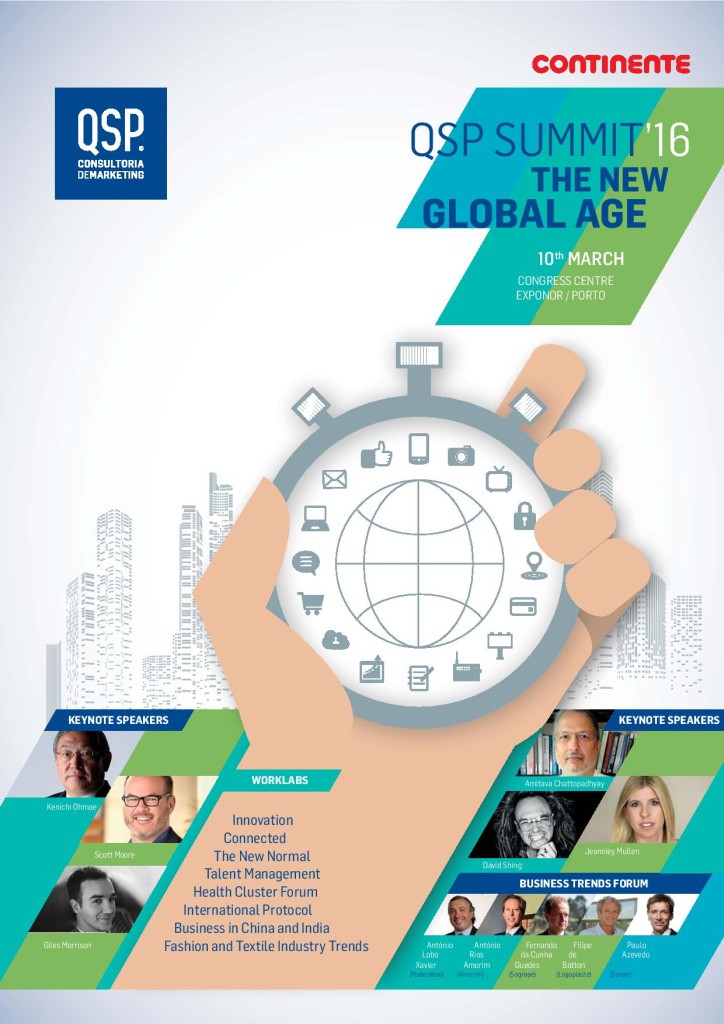 KENICHI OHMAE or "Mr. Strategy", is one of the biggest management gurus, with more than 180 books published and also the President & CEO @ Business Breakthrough, Inc.
SCOTT MOORE is the Founder & President @ M32 Partners
GILES MORRISON is a branding expert and has recently become the Global Creative Excellence Director @ Unilever
AMITAVA CHATTOPADHYAY is Professor of Marketing @ INSEAD
DAVID SHING is the Digital Prophet @ AOL and will take us in trip to the future.
JEANNIEY MULLEN is the Chairwoman @ Internet Marketing Association Women Leaders Group
But they are not the only attractions, some of the best portugueses marketeers will be present to share their experience, in this event full of networking but also with interesting worklabs, to make us have another glimpse of the future through different business areas.
See the Agenda: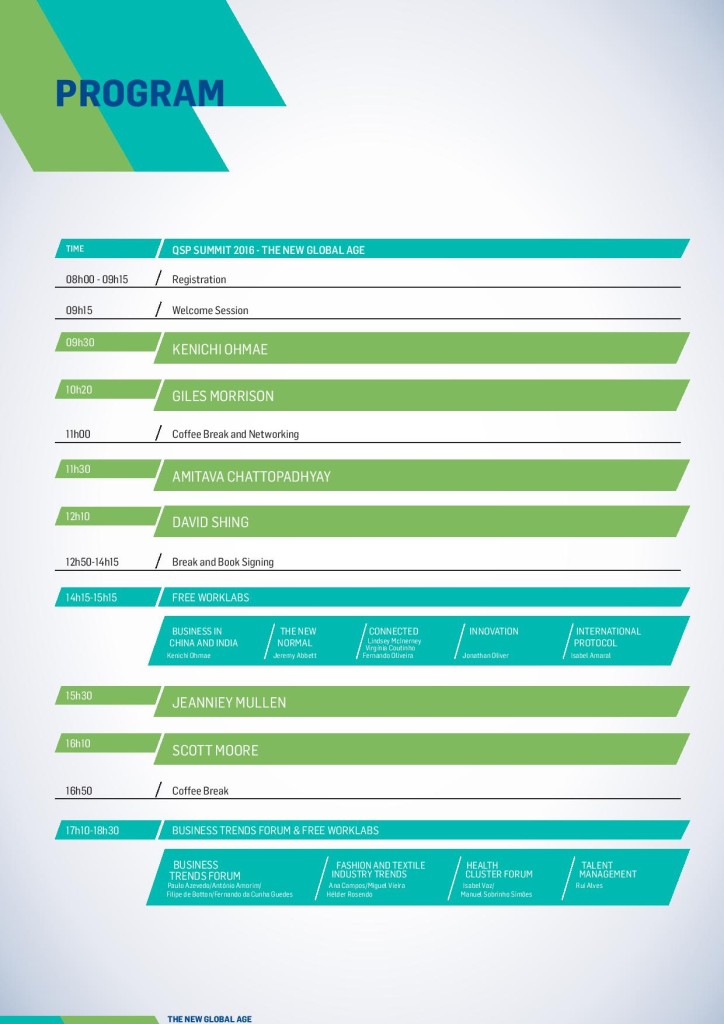 In a special intimate Forum,  4 of the top portuguese administrators;  António Rios Amorim (President & CEO – Corticeira Amorim),  Fernando da Cunha Guedes (Member of the board @ Sogrape), Filipe de Botton (CEO @ Logoplaste) and Paulo Azevedo (Chairman & Co-CEO @ Sonae) will discuss the Business Trends in a debate session, with the moderation of António Lobo Xavier (Partner of MLGTS, Member of Board of Sonaecom, NOS, BPI, Mota-Engil, Riopele)
The portuguese marketing scene is gathering in this meeting, and we couldn't miss it, the event is sold out so if you didn't catch a ticket don't worry, we are now in a new global and connected age, so keep an eye on our blog and on the hashtag #QSPsummit.
With so many great worklabs there is always some doubts, do you have any advice on which panels we should choose to watch?