There are 5 tips but there could be 10, 20, 30 or 40. This is because e-commerce is such a large area and it involves so many that it is very difficult to be an expert in all of them.
Typically, there is a fusion of specialists and various areas managers, involving e-commerce, and that come together to create a more effective strategy, with different views making it much more efficient, effective and a realistic global strategy. An expert in SEO (Search Engine Optimization), SEM (Search Engine Marketing), Social Media (Facebook, Linkedin, Twitter, Youtube, Snapchat, Instagram, etc.), Copywriting, Content Marketing, among others, will be possible?
It is very difficult to find someone specialized in all of these areas, and as such there is a need to form a team to work E-commerce strategy, and the number of elements will depend in the size of the organization.
Therefore, I decided to put together the first 5 tips or strategies that I believe are fundamental in any organization to have positive results in it's e-commerce strategy: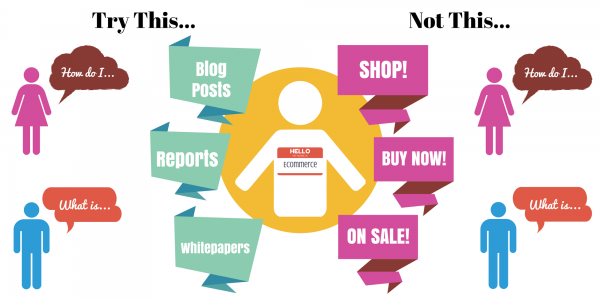 1. Plan a strategy of marketing content – Content Marketing.
Do not start creating something without first defining a plan, as simple it may seen. Get to know what you will sell, when you will sell, who will sell. Simple, isn't it? Not really. Learn which content you will provide to your audience, and know what your audience demands. Not only be interested in selling, but also providing content of interest and quality, without expecting any return, because consumers are too accustomed to having everything ready to consume without having any efforts! Will you have a Blog in addition to your E-commerce platform? It is a good step, but remember: "What content may be of interest to my audience that will influence them to buy my products / services?"
Such content will be in what format? Publication / Article, Photo / Image, Video, Podcast? There are currently a lot of choices, just have a plan of what you want and go!
Make a test with one or two options from those mentioned and after a month measure the results and the next month measure again in order to evaluate the growth and if your audience wants those contents or if you should choose other ones.
2. Take advantage of other platforms and diversify – Social Media Marketing
How to know if those platforms result for you or not, right? Well, there are so many, although some better known than others. My advice is the " give it a try". Sign up in the most influential, feed them and fill with content (as mentioned in point 1, fill with content that your followers want to see). As the times pasts you will know if you are having positive results or not. How to do it? There are tools called social media "analytics" for measuring the range and get all the data on the use of those platforms. I advise you to create an account on Facebook, LinkedIn, Instagram, Google+ and, possibly, depending on your business, Twitter. Only through experience and usability you will known if they are beneficial to you or not, and in the future invest you may invest working with others.
Your only lead can't be the number of followers, as an organization with 100 followers can convert more than another with 1000.
3. Optimize for Mobile Universe (Mobile)
In mid-2013/2014, access to the Internet via desktop would be overtaken by access via mobile. It is true, more and more people access the Internet, whether by phone, either by tablet. Therefore, you should prepare your site to be mobile responsive.
With this I am not asking you to invest in creating an application (app), no, not that. Your website should be optimized when someone accesses the same from a tablet or smartphone, and it should recognizes that access and adapt to the device in question. Users expect something intuitive, easy access without many complications. Something user friendly, that meet your needs and not the reverse.
4. Search Engine Optimization (SEO)
Point 4 and point 1. are relate because content is king, something that we hear very often "the content is king". So, remember to have good content, well written, original, and unique! Do not use content from other people, translated or adapted. You can read other articles and take ideas, but be original, always. Links to such content are fantastic, so remember to build a network of links that generate value. Do not be obsessed only by the values ​​that the pagerank gives you. Use good keywords and tags. It is essential to make good choices and do not write just to fill the blank spaces. Create content when you have something with value to your audience. The title of each item (point 1) is important in this metric, keep this in mind. Of course this is just the basics, because SEO is so complex and so large that there are experts who are dedicated to study this theme.
5. Use Email Marketing
To use email marketing, remember this tool is very delicated and should not at all be associated with spam. When someone gives you their email, subscribing to a video conference, to download an ebook, are giving you an opportunity to create value for both parts, so do not waste it! What should you do now? You've already captured the attention of your potential audience, and your funnel was able to capture the email, but you still do not know how to contact those persons? Create content that is in the interest of your audience. Before thinking of selling, consider giving. Give something that has value and that they should not be waiting. Relevant information is something that people are grateful. How will you send those emails? There are email marketing platforms to situations like this. And when will I send? In the morning? In the afternoon? The premium time to send emails, when the opening rate is higher, is associated between 20h00 and 24h00.
Optimize the email that you will send to mobile platforms as there are studies that reflect an opening rate in the smartphones of around 50%! And think differently from the rest. When the volume of work is less? At the weekend of course! Send your emails at the end of the weekend, so you will have a better chance to be opened, as the other companies will send their emails on monday, the first day of the week for people that work from monday to friday. And finally, the title has to be appealing, but do not think that a very explanatory title, that is long, will bring more benefits, because this is not proven. Create a short title and point to the keyword information you want to give your audience that summarize what's inside. Remind that emails with "10 characters have an opening rate of over 57%.
These are some topics that have great prominence in the digital world, and some of them are questioned me daily and generate topic of conversation, so I decided to share my experience, opinion and points of view. So, don't hesitate in getting in touch with me and I will sure help you with your business.
I am at your disposal to help you achieve more!